Workshops of Obin.org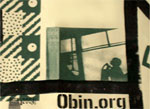 Obin.org workshops are located in Gdansk and Warsaw, they provide space for free, creative actions. From the very beginning we built and maintained our workshops from collective work and our personal means. Self-sufficiency and independence from institutions or sponsors allow us to maintain full control over our activities.
In Gdansk, Obin is situated in former Gdansk Shipyard's telephone exchange building, nowadays known as "Young City" or "The Artists Colony". It contains silkscreen and graphic workshops and a multimedia room, which serves also as a meeting place. We have a guest room for visiting artists as well.
Warsaw Obin is situated in the basement flat in an old house in the city centre.
We provide space for multimedia work, silkscreen printing and stencils making.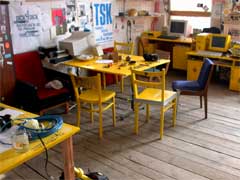 Multimedia
Obin multimedia workshops serves as computer hinterland for local art, social and ecological actions as well as a meeting place for different groups from Gdansk and Warsaw. We offer facilities for graphics, video and sound editing.We also provide our help and knowledge in internet publishing (Indymedia).
Here are some photos of workshops in Gdansk and in Warsaw, and here is our film archive..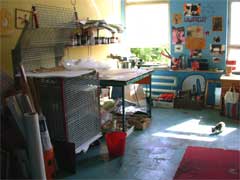 Silkscreen
Silkscreen workshops work on the principle of open art space. You can come to us, design and print on paper or fabric either your own graphic or one of our designs, provided they do not promote military, chauvinist, sexist, fascist, racist, nazi, homophobic, communist, hierarchical, corporate, elitist, commercial, nonvegan (with an exception for vegetarian), ecumenical, patronizing, too consolidating in spirit, patriotic, mason-ocultism, clerical, protectionist, unfair, artistic!, royalistic, trockist, maoistic, marxist, eugenical, negationist, religious, fishing!, hygenical, communist attitudes, and don't go too far in being hippi!
Here is some stuff about silkscreen printing and here are some photos from our workshop in Gdansk and in Warsaw.