Handmade - thats what we do
Besides of creating new screenservers and collective touching of wiress we spent our priceless life on activities in the workshops:
Education
One form of our activities is grassroot education - we organize cyclic workshops (of screenprinting, stencil, computergraphic, video etc.) and from time to time some exhibits. Sometimes we also publish our stuff in form of posters, booklets or leaflets focused on social themes or artisticly-weird...
Indyvidual projects
Lots of individual projects of people cooperating with our workshops is also done here, everybody can use our technical infrastructure or find inspiration in boutifull :post-shipyard" or "warsaw from the back" views by wich were sourunded
Kiosk
Kiosk.obin.org is a system od distribution of stuff, mostly textiles. We distribute products created in our workshops and from the DIY movement in internet, and also on some cultural events, actions and gigs. the stuff is mostly: tops, bags, t-shirts and lot of other stuff all with hand-made prints designed by artist working or cooperating with Obin.org. Structure of the distribution and finances are publicated due to the "radical transparency" bases
Wiki
Wiki is a platform for text cooperation, on which we work on lots of different documents and make notes that need lots of versions and adjustments. Wiki technology is also used in the Wikipedia - the free encyclopedia and the indymedia network documentation project.
Foto
Photo archive - the page where we collect photos of actions that take place around the obin workshops and those that we were more or less into.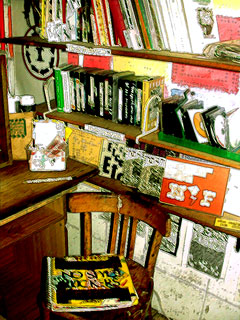 Tracker (sprouts)
P2p network for nonhierarchical and decentralized movies distribution. It allows to download and share huge amounts of files without the need to stress the servers. Please note tat Obin.org is not into piracy nor dystributing movies with restrictive copyright, the materials are shared by users of the tracker. You can find it at Tracker.obin.org
Library
We have our "Obinobrary", in which we have books, magazines, VHS tapes, CD's and other types of publications- mostly about grassrout movements.
If you have any books, zines and you have to get rid of them - well be more than happy to take them (just bring them to us or with any other way our contact).
You can check out what we hae allready here: obinobrary catalog
Radio.obin.org
You can check out the progress at radio's page. In plans we think about playing serbian music and schizophrenic electro mit disco ("Psycho Retro Cofka"). We playing also auditions about culture&people in Poland ("The Club: People with hand on pulse"). Und wir planen next.
Servers
We administrate few servers, which we offer for free to other groups and initiatives on the Free price basis thats whip-round. Here is list of servers and the rules of using them.

Workshop of Dreams or what we plan