Obin.org means team !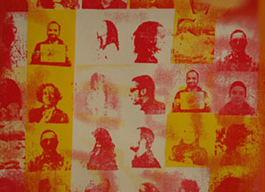 Workshops of Obin.org are created by people, whose combined aim is creating space and technical infrastructure for unrestricted realization of artistic and social activities. Here meets art, activism and independent means of communication. Our operations are open and of non hierarchical character.

Everything has started from one computer and one screen, that appeared in a room of the former telephone central of Gdansk Shipyard in the end of summer 2003 - it was the start for the actual multimedia workshop. Over time that place started to attract more and more people, who have contributed time, ideas and activity to steady growth and developement. In summer of 2004 our space has expanded to the next room, where we have created the screen printing workshop. From that time on both workshops provide space and resources to various artists, social activist and lazybones. In the end of 2005 we have opened Obin outpost in Warsaw.
The specification of workshop obin and workprocess at obin depends on the specific process currently realised and on people involved(art, activism etc.) We hold an occasional exhibitions, frequent or less frequent printscreen workshops, template workshops and also computer graphic workshops. We design print, run internet servers, paint our machines and get laid...
We are currently supperted teoretically and physically by Indymedia, Alternative Society Movement, Drabina Association, Food not Bombs, Blue Limons Pink Birds and other(anonomyously or under nicknames)