Educational offer of obin.org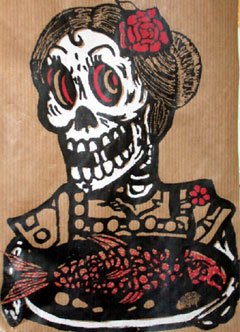 As we allready mentioned, we run workshops of thous spheres:
screen printing
stencil
clay
computer graphics
video reportage
computer sound processing
advaced usage of internet
precise workshop offer:
We run workshops in groups of 5 to 15 people. They happen in our labs in Artists' Colony building in the area of Stocznia Gdańska (Gdańsk Shipyard). In case of need we bring our tutorials trough in other places (schools, culture houses, galleries and others depent on accomodation for tutorial needs); we're also able to come to your town.
Screenprinting workshops :
During the courses the participants will gather knowledge on screenprinting skills, which are pricesely described in other sections of
websiste
. The parttakers print only with water-based paintes and textile paints. The templates are handmade and also prepared using digital techniques.
After the courses the particiapnts besides the knowledge, large doze of entertainment and colorful stains on t-shirt will recieve selfmade t-shirt or graphic.
The parts of course:
Introduction and a short lecture about basis of screenprinting (what actually is screenprinting, common use of screenprinting, how to create a screen printing, - 45 min.
brief presentation required for screenprinting - 30 min.
explanation how to make a screenprinting considering combining net on the frame, adding fotosensitvie emulsion and drying the screenprint - 45 min.
creating own screenprint - ok. 45 min.
desiging the motif - elementary rules which should be applied to create proper screenprint, verious effects which can be used to create screenprint using digital and analog techniques -ok 30 min.
introduction on using rudimentary digital applications (Adobe Photoshop, Adobe Ilustrator), scanner and digital camera - 45 min.
gathering the material for a future reproduction using digital or analog techniques- digital photography, drawings our scans - 45 min - 120 min.
desiging and preparing for print on calque - 60 min.
Irradiating and cleaning screenprints after finished work - 30 min.
Copying desigins on paper or fabrics - 1 - 2 h
Cost of the materials:
Printing frame - 10 pln /person (might be selfmade)
Screening mesh - 6 pln /person
Fotocoat - 10 pln /person
Paint - 5 pln /person
Tracing paper, paper masking tape, emulsion remover, thin marker - about 5 pln /person
Softdrinks and sweets
T-sherts (best to buy in second-hand shop).
2) Stencil workshops :
- introduction (what is stencil, how to create it and copy)
- presentation of materials required
- how to create an image which in near future will became a stencil ? Analogly or digitally (Adobe Photoshop, Adobe Ilustrator)
- creation of image by every participant. The image will be a base to create a stencil
- a short lecture about rules, how to make a properly cutted stencil
- cutting the stencil
- copying perviously created stencil with spray or szaft (best place to do it is an already prepared wall)
Video coverage workshops:
During the courses participants will gather knowledge on amateur and anti-professional tv jurnalism.Starting from the cameras manual through the lighting, sound, postproduction, compression and distribution we show how to redact and share information or video.After finishing the course participants can burn down their work on dvd and publish it on our obin.org servers (we hope someday on pl.indymedia.orgalso.)
The parts of course:
introduction (What actually is reportage and documentary ,
TV and Indymedia examples presentation, jurnalism) - 90 min.
gear and technique presentation(cameras, postproduction and distribution) - 60 min.
recording course - each participant tries difrent types of gear, shots, film, batteries and lighting gear. - 60 min
exemplary video editing - 30 min.
outdoor reportage or documentary recording - od 1 do 2 godzin
video editing under tutors guidance - od 1 do 3 godzin
prezentacja własnych klipów w grupie, dyskusja i ew. poprawki. 45 min.
postprodukcja czyli kompresowanie "na internet" lub dvd. Publikacja klipów na serwerach Obin.org i spawanie płyty dvd z filmami. 45 min.
Składniki budżetu:
Amortyzację i konserwację naszego sprzętu staramy się pokryć z wynajmowania pracowni multimedialnej na zajęcia, dlatego koszt jest uzależniony od wielu czynników, m.in. od zamożności zleceniodawcy. Poniżej przedstawiamy inne wydatki niezbędne do przeprowadzenia warsztatów:
Taśma do kamery mini DV - 5 zł / osobę
Płyty DVD - 2 zł na osobę
Napoje i smakołyki dla uczestników:)